Grow your start-up or scale-up together with us
Are you looking for:
validation and feedback to improve your product?

new clients or help with scaling internationally?

smart capital to grow your business?
Let's collaborate!
We screen, coach, test, and fund your start-up in media tech or media content.
As you navigate the exciting journey of a media start-up, VRT Sandbox is there to help you overcome your growth challenges. At every crucial milestone, we offer tailored services and a wide network of partners to help you validate, grow, and secure funding for your business.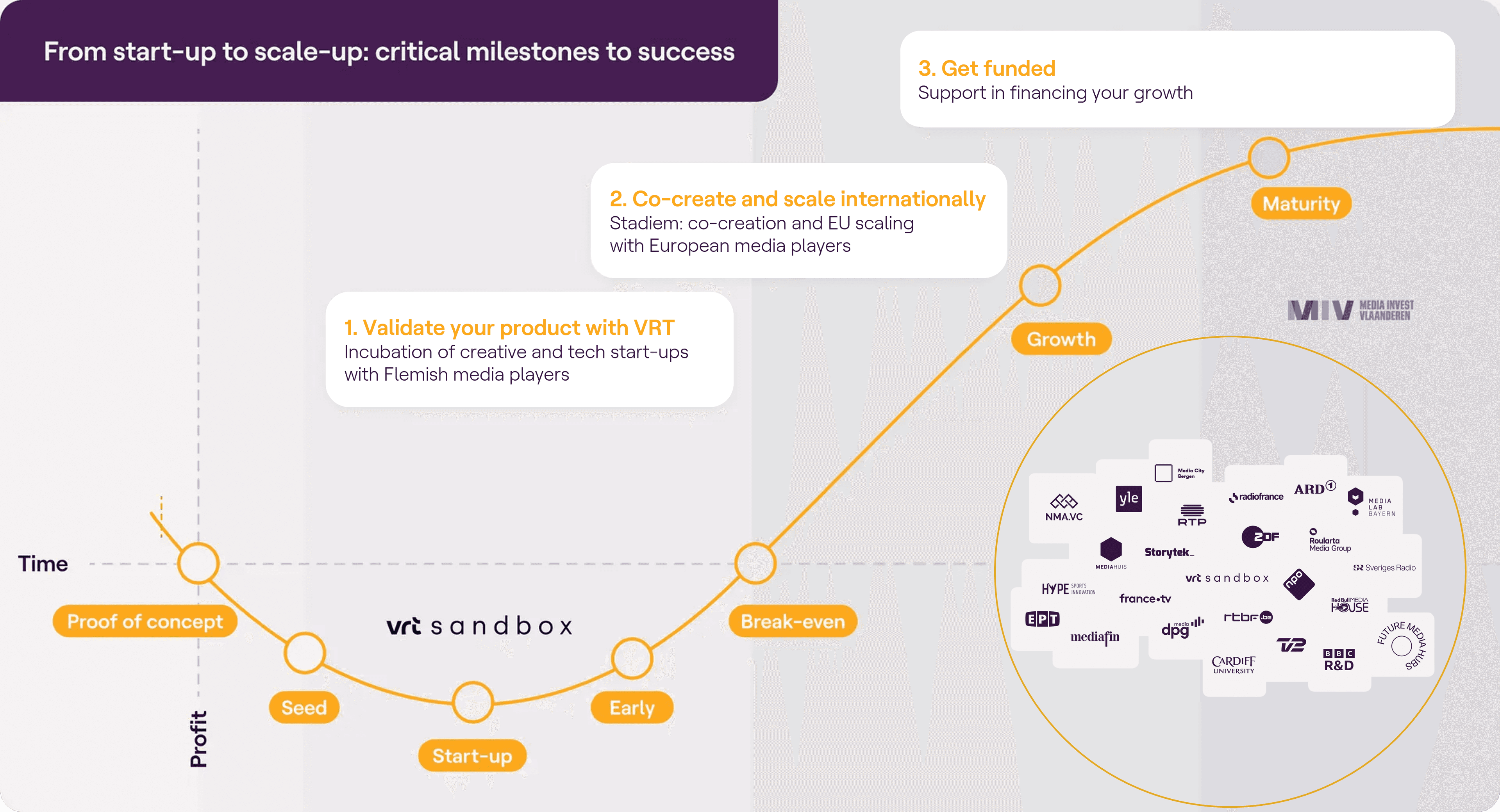 1. Validate your product
Do you want to validate your product and get real market feedback? Work together with one of our VRT brands or teams.
2. Co-create and scale internationally
What if you could integrate and test drive your solutions in a real live environment? 
Join the STADIEM programme, a unique piloting and acceleration programme designed for mature start-ups and scale-ups. Via STADIEM, you can further develop your product together with VRT, test it in a live environment and grow beyond borders. Via our international network of media players, we can help you scale up in Europe and secure funding for further growth.
3. Secure funding
Are you a scale-up based in Flanders and Brussels and looking for smart money? Get in touch with Media Invest Vlaanderen, a unique investment fund powered by PMV & VRT.  
With Media Invest, we invest in promising scale-ups in media content and/or technology to strengthen and professionalise the Flemish media sector.
Discover our ongoing and past VRT Sandbox collaborations
Every year, VRT Sandbox realises 10 start-up projects. This is when we successfully match one of the VRT brands to a start-up to validate their product. Looking to start your own project or interested in learning more about the start-ups we've worked with?  
Discover our projects