September 21, 2023
Innovation without borders: VRT unites 50 media organisations in international network
In a world where borders between countries, sectors and audiences are increasingly blurred, the impact of a network is undeniable. International cooperation is therefore essential in the media sector. Together with RTBF, the broadcaster of the Walloon-Brussels Federation, VRT brings together 50 international media organisations within the network Future Media Hubs.
The initiative was launched in 2018 as part of the European project MediaRoad, which enabled start-ups to collaborate internationally with media organisations. This way, start-ups could tailor their technologies more specifically to the needs of the media sector, while media organisations got the chance to discover new solutions.  
Future Media Hubs consists of four different 'hubs', each with its own focus. From start-ups to the latest video and audio technologies. From young creators to gaming. Each hub of the network brings together media organisations from different countries around themes such as disinformation, artificial intelligence and virtual productions. 
The Future Media Hubs network shows that you really get things done. This is not just a chatroom. This is an action room. This is the place to be.
Creating media with more than 75 start-ups     
Since 2020, more than 75 start-ups have already been introduced via the network to other media organisations. At VRT, Flemish start-ups On-Hertz and Tinkerlist, among others, were able to test their technology on the production floor and grow beyond borders. On-Hertz provides software tools to create audio content efficiently and flexibly. This way, the Flemish start-up already partnered with DPG Media, RTBF (Walloon-Brussels Federation) and Radio France (France).  
"We took our first steps at VRT Sandbox, a nurturing ground that facilitated our journey towards a MVP. This foundation allowed us to gradually build connections within the Future Media Hubs network. Today, we are proud to count several esteemed members of this ecosystem among our customers, including VRT, RTBF, DPG Media and Radio France. This is a testament to the positive role that Future Media Hubs has played in our growth trajectory." - Benjamin Lardinoit, co-founder & CEO On-Hertz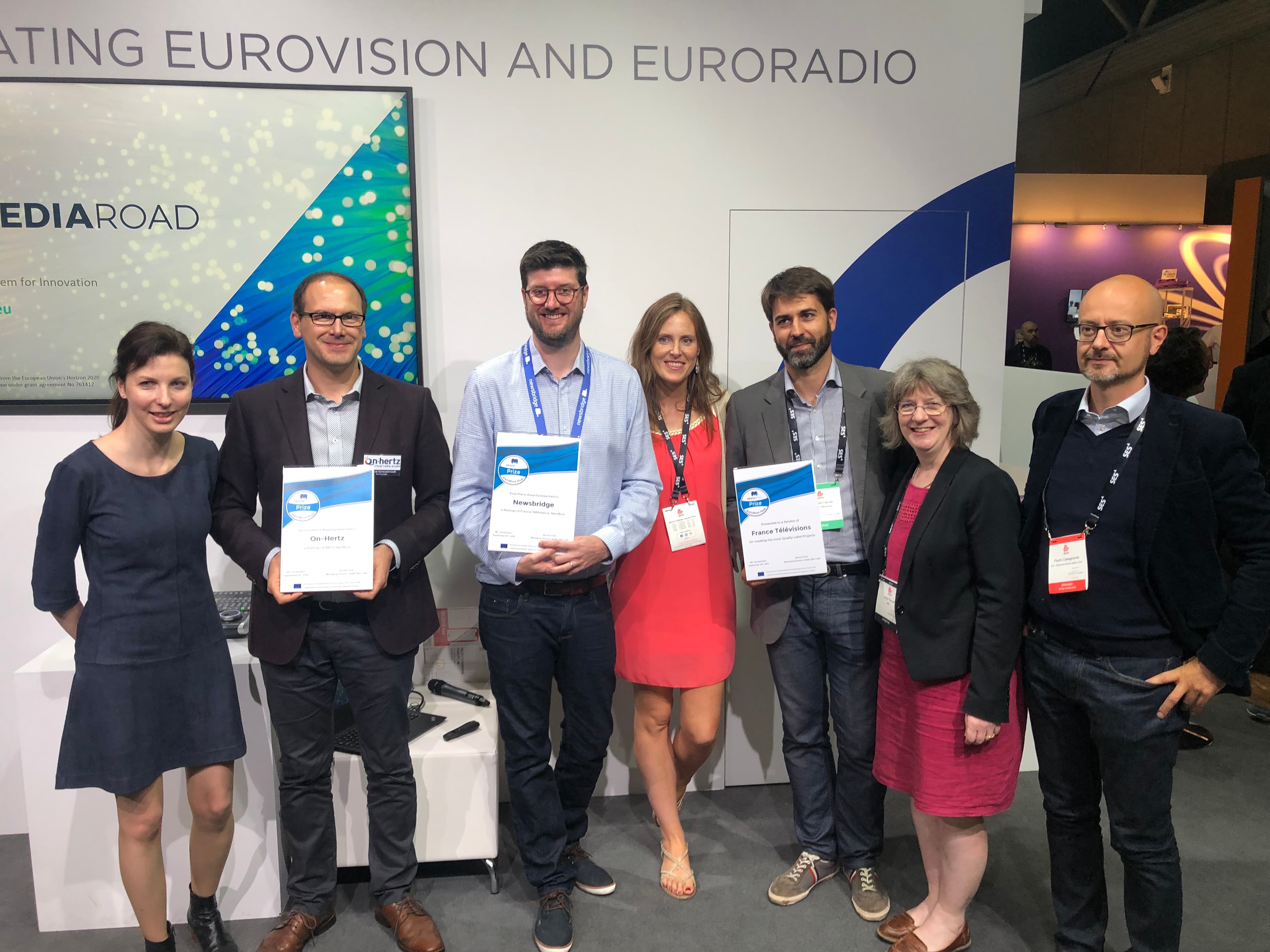 Tinkerlist supports production teams with an online application that helps automate editorial workflows. Through their projects with VRT, RTBF and DPG Media, Tinkerlist is responsible for a digital revolution in TV productions and live events. That collaboration took place directly via Future Media Hubs.  
"We have been using Tinkerlist for over two years as an editorial and automation tool for our live and syndicated radio news, and our one-man band online TV studio. This allowed us to put everything in the hands of our journalists. Tinkerlist gives them the complete freedom to bring news as it happens, rather than waiting for a technical crew to be present." - Jan De Wever, project manager innovative technology DPG Media (Flemish broadcaster) 
Start-ups from other countries have also been introducted within the network. For instance, Sceenic collaborated with both NPO and VRT. Thanks to that collaboration, viewers could still experience and discuss sports 'together' during the corona period via webcam. Today, Sceenic's technology still brings people together. For example, families that have children studying abroad can enjoy their favourite programmes together. 
"Thanks to Future Media Hubs we met Yle, NPO and VRT. That was the first valuable step. From there, we deployed commercially with NPO and run public beta trials with Yle during the Euro 2021 competition and with VRT for Belgium cycling competition. Future Media Hubs was always there to help us and bridge the conversations between Sceenic and the business units." - Paul Bojarski, CEO Sceenic
International themes with local impact    
There is no 'I' in team. Exchanging knowledge and launching projects together lies at the heart of Future Media Hubs. On a regular basis, there are inspiration sessions and meeting moments that transcend busy schedules (and time zones). Meanwhile, more than fifteen international projects have already been launched and discussed within the network. 
Experimenting together is essential for innovation, says head of Future Media Hubs Sarah Geeroms:
"Future Media Hubs lets European media organisations collaborate on themes that have an impact on the local media sector as well as the public, such as artificial intelligence. This way, the insights, ideas and experiences of network members can make a difference. In addition, this structural cooperation is necessary to innovate on a relevant scale and put important themes on the international agenda. In doing so, we strengthen both the media sector and local ecosystems."
A successful collaboration with a particular partner is also often followed up. For instance, VRT has already worked twice with the Finnish broadcaster Yle. In a first project, the broadcasters experimented with the possibilities of the metaverse, a virtual world we create ourselves. This helped research how, in the future, you can experience media as a 'virtual person' in a completely new way. A second collaboration goes a step further and looks at the existing metaversum of 'Roblox' to develop new and safe experiences for younger audiences. 
I love the no-nonsenseness of working with Future Media Hubs partners. Democratization of technology means anyone can do wonders with it - not rocket science. Together with VRT, we've learned to build lifelike virtual humans and amazing Roblox worlds.
50 and counting 
With the South American Globo, the network now counts 50 media organisations, nine of which are commercial and 27 public. This mix is also essential, according to Loïc De Visscher, board member and corporate innovation manager at RTBF: "By uniting private and public media organisations in one network, we not only exchange knowledge and experience - we also accelerate innovative projects that shape the future of our sector. Collaboration here is not just a concept, it is our core strategy for success." 
Meanwhile, the network is also adept at getting other organisations to innovate successfully. Sarah explains, "For new partners, we develop various toolkits - from setting up your own sandbox operation, reaching out to young people, to establishing a game department. We build on each other's success stories and experiences. The focus is obviously on Europe, but by also getting to know partners in other continents, we keep up with new evolutions and media ecosystems on a global scale. Globo, for example, is the world's second-largest television network; only ABC in Australia is bigger. Both are contractually part of Future Media Hubs today."
"Future Media Hubs allows Public Service Media orgs to really broaden their thinking when it comes to innovation, hearing from others who are at different points in the innovation cycle and perhaps looking at different themes in technology. The BBC is part of this ecosystem, enabling us to take advantage of new opportunities with scale-ups, to collaborate with others and for us to share our knowledge and expertise within this European community of practice." - Laura Harrison, Executive Product Manager BBC (British public broadcaster)  
"We see Future Media Hubs as a great network to collaborate, learn, exchange knowledge with other media companies to bring innovation and find solutions. Many of the challenges that we face today are industry challenges, even if we are in different markets. Getting a perspective on those challenges from EU media companies and having the opportunity to collaborate is one of the main reasons for joining this network." - Carlos Octavio Queiroz, Director of Corporate Strategy and Architecture Globo (Latin American TV network)  
"While Australia may be physically far from Europe, FMH has allowed us to understand that we're certainly not alone in facing challenges when trying to reach younger audiences. For our team within the ABC, FMH has been influential in understanding the global perspective of experimentation on emerging platforms. The Hub has been critical in gaining much needed global connections with those who are invested in this space." - Emma Lawson, Digital Producer Innovation Lab ABC (Australian television network) 
On to a hundred? Sarah shares her ambitions: "Over the past few years, we have worked hard to build our network. Now that this is going smoothly, we want to further focus on concrete projects that have a direct impact on the end user. We are also investigating how we, as a network consisting of the continent's leading media players, can continue a dialogue with each other and with European policy. This way, we can help set the future agenda of media innovation, with accompanying opportunities for the European media sector."