October 21, 2022
Discover the world of Teletubbies, Daft Punk or techno
Have you already listened to StuBru's radio show "The Years Zero"? For ten days, VRT' radio station StuBru takes you back to your childhood years through a combination of both music and virtual production. Take a look into the Teletubby-, daft punk- and techno bunker and spot our Japanese yellow friend Pikachu, a fluffy Furby, or a Tamagotchi.
Visual radio
Some creative VRT-minds unleashed their imagination on everything and everyone you can think of when talking about the 00's. The Teletubbie world, for example, was based on the most legendary desktop background of the time, the Windows XP wallpaper. In total, StuBru created three separate worlds, which became the backdrop for this virtual production. For VRT, this scenario functioned as the perfect test to convert certain props into a 3D-space and learn about its opportunities and limits, as VRT is eager to learn about future possibilities for props in a 3D archive.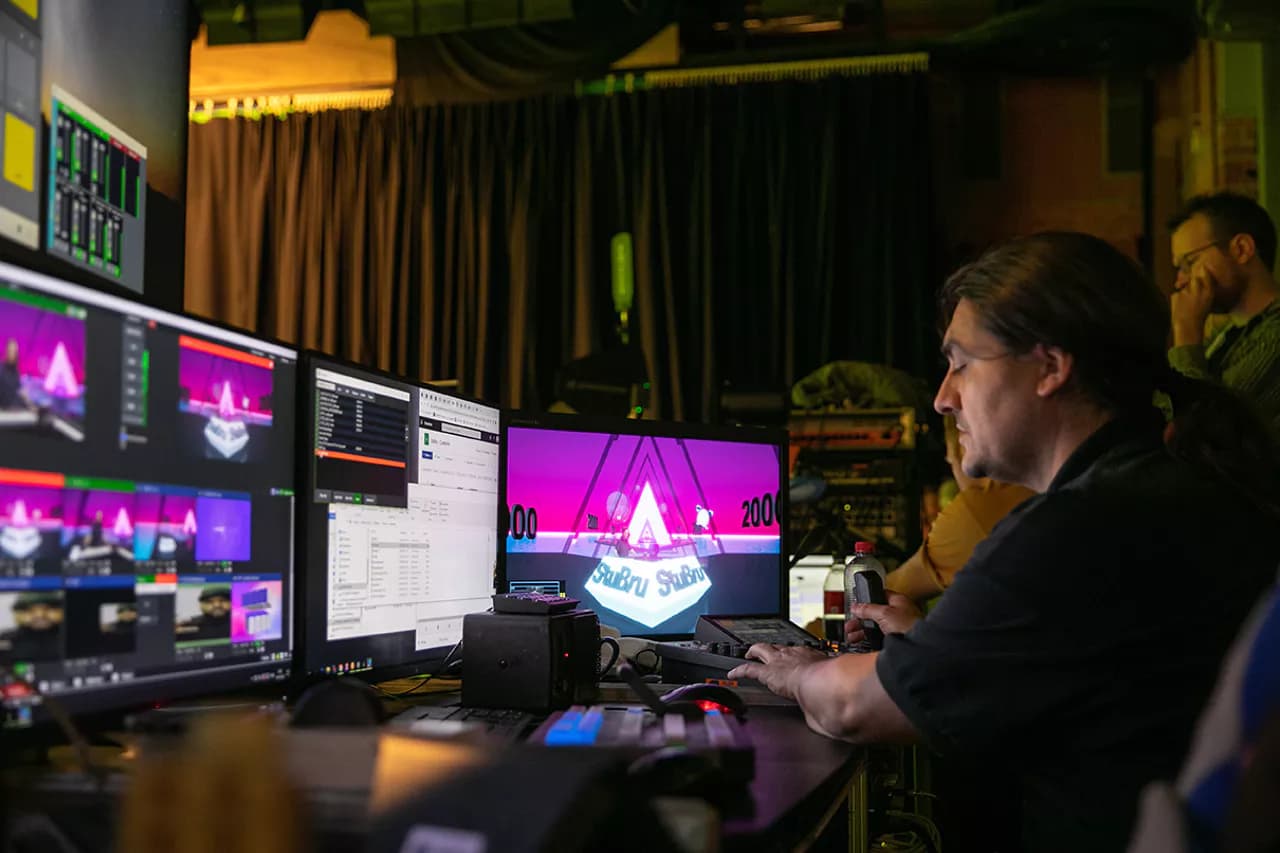 VRT is increasingly devoted to the exploration and use of virtual productions, using game engine technology. Nowadays, radio is no longer exclusively about audio or video. Instead, graphic elements are integrated to a greater extent into the radio format (visual radio), in this way contributing to the story a radio station, in this caseStuBru, wants to tell. In some cases, this visual radio tends to lead to a party, as although you can spend ten days banging to hits by 'Freestylers', 'Daft Punk', 'Sum 41' orsing along with 'The Tide Is High' by Atomic Kitten, next to the music during "The Years Zero", you can also watch the Mini Party for Maxipret, a daily virtual production during "The Years Zero".   
Testing by AP college
The Immersive Lab, AP college's expertise centre focused on Virtual Reality (VR), was also allowed to scan objects from the year 2000 as a test. Props at VRT provided props to match the style of the StuBru experience. Using different types of 3D scanners, the AP college students set to work to convert the chief among Pokémons, Pikachu, into a virtual world, among other things.