January 21, 2022
VRT introduces new virtual and software-based productions
This week, Flemish public broadcaster VRT launched three new virtual productions, leveraging the creative and technical potential of game engine platform Unreal, developed by Epic Games.
As part of the digital transformation in media production, VRT launched a new season of its live sports show Extra Time from a newly built green key studio, where the original physical decor has been replaced and digitally replicated. VRT also focuses on the possibilities of virtual productions for a younger audience. With the Peetie Club, VRT introduces an online show in which children can interact with a series of live animated avatars. In a third virtual production, VRT innovates with sofware-based production workflows that make scalable, efficient, and high-quality virtual broadcasting possible. 
At VRT, we innovate not only in terms of which content we make, but also how we do it. The coming weeks, we are taking important steps in that area with virtual productions and a software-based approach. It is interesting to see that technological developments in other industries, such as the game sector, are increasingly becoming a catalyst for media. This way, we are focusing on a more efficient, creative and innovative offering for our audience.
Live talkshow in green key studio
With Extra Time on Sporza, the sports content brand, VRT airs its first live talkshow using a complete green key studio solution. The environment is realistically recreated in real time using Unreal Engine, making it seem as if host and speakers are sitting in a very real and authentic surroundings. Game software is a key software component of virtual production technology. It allows for a great deal of flexibility, creativity, and a high quality of broadcasts.  
Over the last two years, virtual production technology has been fundamentally changing the way content is made for television and film productions, certainly in pre- and post- production. Using this technology in a live and well-known talkshow format at VRT, where multiple speakers are seated around a large table, virtual backgrounds constantly need to be adjusted to the different moving cameras around them in realtime. There is no room for second takes, as everything happens live on air.   
Thanks to the power and flexibility of Unreal Engine software, it became possible to achieve the quality, speed and robustness required for Extra Time. In addition to all the creative possibilities this new virtual studio unlocks, it is the way forward to a more cost-effective approach for creating  programmes and new scenery at VRT.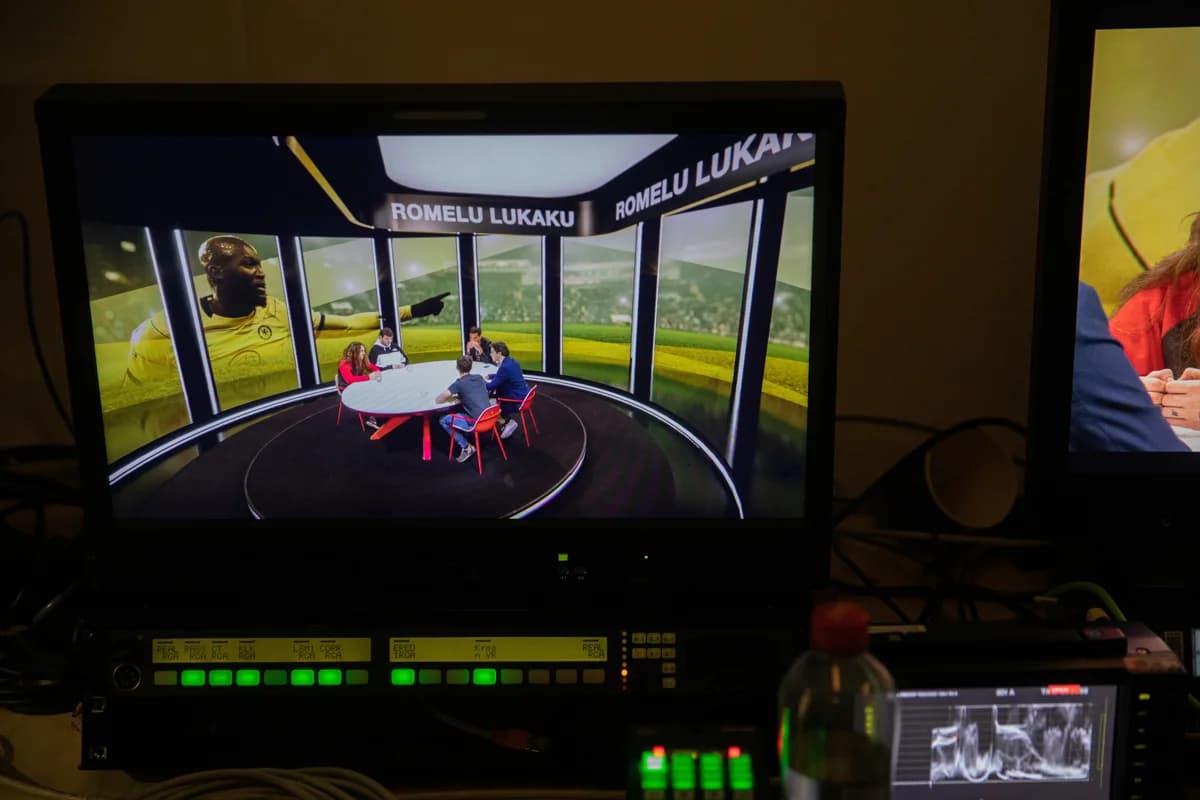 Software-based editing
During MNM Breakout, a visual radio broadcast on VRT's youth channel MNM, three radio hosts went into hiding in Flanders, while streaming live from their secret locations to a studio that was virtually transformed into an investigation bunker. In addition to being a virtual production, MNM Breakout is also the first programme at VRT that is using fully software-based production workflows. Most broadcast productions these days still are largely dependent on proven hardware solutions, but this broadcast production now runs entirely via servers in a data center that connect with touchscreens in the control room. 
The digital shift in media production has been set in motion by transitioning from specific broadcast technology to standard software solutions. This enables us to achieve a new level of operational efficiency with VRT's production environment, which needs to be flexible, scalable and shareable for both recurring and one-off productions.
It is a prime example of the exciting transformation our broadcast industry is currently experiencing, where even the most production critical processes and workflows are becoming more software-based. This allows for more operational efficiency, flexibility and scaling in our productions.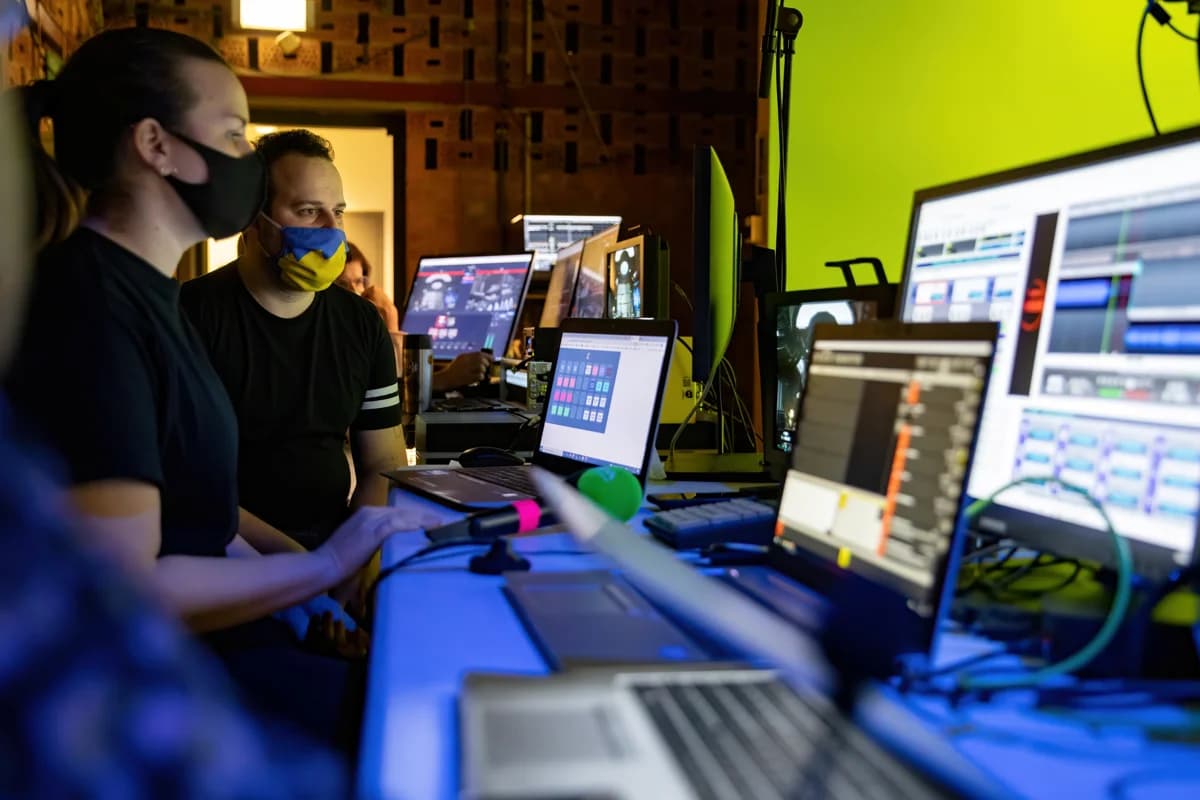 Live animation in a virtual production
With the Peetie Club, VRT is launching its first children's program with avatars in a virtual environment. The Peetie Club is a weekly online show in which kids can interact with the 'Peeties', a group of cartoon-like digital characters, via live communication trough their webcams. It is streamed on Ketnet, VRT's 360° children's platform. During the show, the 'Peeties' motivate children to share their videos, play games or pursue all sorts of offline hobbies. They are welcomed by a Ketnet host who introduces them to a completely virtual world full of avatars, each with their own characteristics. All these different elements are brought seamlessly together in a virtual set using Unreal Engine. While the voices are being recorded, the faces of the voice actors are automatically tracked live and used to drive the facial expressions of the avatars in realtime. In addition, the actors can simultaneously control the emotions and certain actions of the avatars, such as waving or jumping. This kind of live animation is a first for VRT.